Cost Includes

Cost per person on twin sharing basis

Accommodation for 1 Night at Sigiriya in mentioned hotels

Accommodation for 2 Nights at Kandy in mentioned hotels

Accommodation for 2 Nights at Nuwara Eliya in mentioned hotels

Accommodation for 1 Night at Colombo in mentioned hotels

7 Breakfast & 5 Dinners at the Hotel, 1 Colombo Dinner & 7 Lunch outside restaurant

Kandy Temple / Haggala Botanical Garden / Ella Ravana Caves / Hannuman Temple Tuk Tuk Charges / Divurumpola Temple

Transport in an A/C Car / Micro van / Mini Coach / Coach with the service of an English-speaking chauffeur / National Guide

Sightseeing as mentioned above

Meeting and Assistance at the airport
Cost Excludes


Any expenses on a personal nature

All applicable entrance fees, Tips & Portage

Extra Lunch & Dinner on Tour

Anything not mentioned in the tour price includes section


Cancellation Policy

Cancellation made before 30 days or more: Non-refundable deposit of Rs.10, 000 per person

Cancellation made between 29 - 20 days of departure: Non-refundable deposit + 25% of the package cost

Cancellation made between 19 - 14 days of departure: Non-refundable deposit + 50% of the package cost

Cancellation made between 13 - 08 days of departure: Non-refundable deposit+ 75% of the package cost

Cancellation made with-in 7 days of the departure: 100% of the package cost OR Full cost of the package

If no show - 100% retention on the total tour cost
Terms and Conditions

Above price is based on current exchange rate. In the event of an increase in the ROE, the prices defined may change
Taxes: Included
Extra price per adult: NA
Extra price per child: NA
Srilanka visa process
Visa on Arrival

Departure Tax: Nil


Documents required:

Two photo 35*45mm white background 80% face should be seen

Valid passport for 6 months

Click here to download Srilanka visa process details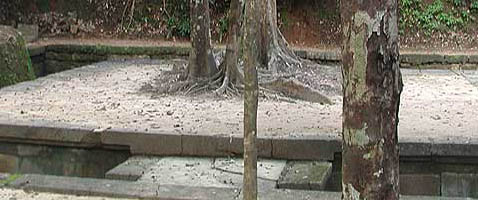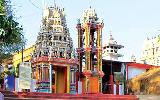 Day 1: Muneswaram Temple - Manaweri Temple
Arrival in Sri Lanka & Clients will be met by our representative on arrival and transferred to Near Hotel for Fresh up (Wash & Change) After the Breakfast Transfer for to Chilaw to Visit Munneswaram Temple(After his victorious battle, Lord Rama left for Ayodhya, in one of King Ravana"s vimana (carriages).He felt he was being followed by bramhaasthi dosham as he had killed King Ravana who was a Brahmin. Legend has it that when he came to this place he felt bramhaasthi dosham was not following him and he stopped the vimana and asked God Shiva for remedy. Lord Shiva blessed Lord Rama and advised him to install four lingams there and pray to get rid of the dosham. Since then many Hindu devotees flock to the Temple.) (Approximately 90 minutes Drive). Thereafter proceed to Mannavari Temple(Manavari is the first lingam installed and prayed to by Lord Rama and this lingam is also called Ramalinga Shivan.) (Approximately 20 Minutes Drive). Lunch at outside restaurant and Transfer to Sigiriya Check in at the hotel. Dinner and over night stay at hotel sigiriya.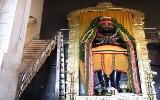 Day 2: Kandy tour and Visit Trincomalee Koneswaram Temple
After breakfast proceed to Trincomalee Visit Koneswaram Temple (Shaktipeetam)(Trincomalee- According to an inscription found on the doorway to the Fortress this Temple. Destroyed by the Portuguese in the 16 CenturyA.D. they threw all the columns down to the sea below.Three bronze statues were brought up by divers found among the columns in the sea and are now kept in the modern temple at the same site, within the Dutch Fort in Trincomalee.) Lunch at outside restaurant, Return back to Kandy. dinner and over night stay at hotal kandy.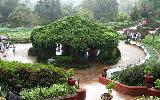 Day 3: Mahiyanganaya Tour
After delicious breakfast at your hotel. Today you will visit the following places Mahiyanganaya. "Dunuwala & Laggala" - Dunuwala (the site where Ravana died) and Laggala (where Ravana prayed to Lord Shankara). "Yahangala" Here King Ravana's body was displayed after his death to allow his countrymen to offer their last respect. "Wera Gantota" Weragantota was the capital city of King Ravana and means "a place of flying chariot (aircraft) is landing" in Sinhala language. It is believed to be the first place where Sita was brought into Sri Lanka in King Ravana's Vimana. "Sita Kotuwa" Sita was kept at Queen Mandodari's Palace and later move first to Sita Kotuwa (translated "Sita's Fort") and finally to AshokaVatika. The ruins found here are the remnants of later civilizations. Gurulupotha Lankapura Here was a flying chariot (aircraft) repair center known as Gurulupotha. In Valmiki's depiction King Ravana's Vimana resembled a huge peacock. After Return back to Kandy late lunch at outside restaurant. Temple of the Sacred Tooth Relic - Ever since 4th Century A.D, when the Buddha's Tooth was brought to Sri Lanka hidden from sacrilegious hands in an Orissan princess' hair, the Relic has grown in repute and holiness in Sri Lanka and throughout the Buddhist world. It is considered Sri Lanka's most prized possession. Dinner and over night stay at hotel kandy.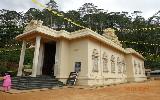 Day 4: Nuwara Eliya and visit Sri Baktha Hanuman Temple
After breakfast proceed to Nuwara Eliya, En route visit the Sri Baktha Hanuman Temple, Ramboda On these hills of Ramboda where Hanuman was searching for Sitadevi, the Chinmaya mission of Sri Lanka built a temple with Hanuman as the presiding deity. On every full moon day special pooja"s are conducted and witnessed by thousands of devotees. Lunch at outside restaurant. Commencing sightseeing in Nuwara Eliya The 'Little England' of Sri Lanka, is set against beautiful backdrops of Mountains, Valleys, Waterfalls and Tea Plantations. It is supposed to be one of the coolest places in the Island, but it is really just like an English spring day, although the temperature does drop at night. All around Nuwara Eliya you will see evidence of the British influence, houses like country cottages or Queen Ann style mansions. Evening visit the Gayathri Pe(e)dam in Nuwara Eliya. It is believed to be the place from where King Ravana"s son Meghanath propitiated Lord Shiva with penance and poojas and in turn was granted super natural powers by lord Shiva. Return to hotel dinner and over night stay at hotel nuwara eliya.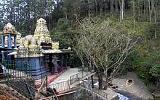 Day 5: Bandarawela visit Seetha Amman Temple - Divurmpola
After breakfast proceed to Ella, En route visit Seetha Amman Temple, Seetha Eliya(Approximately 20 Minutes Drive) (The stream that runs from the hill, catered to the needs of Sitadevi during her stay at Ashoka Vatika). Hakgala Botanical Gardens The Hakgala Botanical Gardens was one of the pleasure gardens of King Ravana. This garden was expanded during the British period and has a wide variety of flowers including an excellent collection of orchids. Divurmpola (Approximately 1 Hrs Drive) Divurmpola means a place where one takes an oath. Sitadevi, after being liberated from King Ravana was subjected to a test to prove here chastity by offering herself to the fire. However she came unscathed and proved her holiness during this ritual at this place. Lunch at outside restaurant Ella is a small mountain village near Bandarawela and boasts three locations linked to the Ramayana where local legend claims Ravana was hiding Sita. First there is the Ravana Ella Cave, located at the massive Ella Falls; a breathtaking 1080 feet high waterfall that cascades into several falls. The rocky undergoes of the waterfall is Khondalite, a kind of limestone which undergoes faster decay as hard gneiss orgranite. This has resulted in many caves being formed near the falls. King Ravana is said to have lived in one of the caves above the waterfall. A nearby pool bored out of the rock by the gushing waters is where Sita is said to have bathed Ravana. Return Back to Nuwara Eliya dinner and over night stay at hotel nuwara eliya.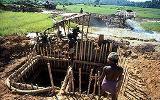 Day 6: Colombo visit Ratnapura and Sitawaka
After breakfast at Bandarawela Hotel proceed to Colombo via Ratnapura and Sitawaka, Aviswsawella. (Approx 197 km & 6 hrs drive) Visit a gem mine at Ratnapura. Ratnapura is the fabled city of gems. Its name remains unchanged over the years and means "city of gems". In Ratnapura prospecting and mining goes on every day. Visit a gem mine and a museum and strike a bargain at one of the shops. Sitawaka, situated near Avissawella on a tributary of the Kelani Ganga (river). Not surprisingly it derives its name from Sita, who is supposed to have been imprisoned by Ravana in a grove in this neighborhood. Lunch at outside restaurant, Shopping in Colombo Dinner at outside restaurant. Check in at the hotel. Over night stay at hotal colombo.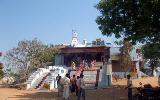 Day 7: Colombo visit Panchamuga Anjaneyar Temple
After breakfast proceed to Panchamuga Anjaneyar Temple. Panchamuga Anjaneyar Temple. A temple dedicated to Anjaneyar in Sri Lanka. This is the only temple in the world to have a chariot of Anjaneyar. Lunch at outside restaurant Thereafter commence a tour of Colombo, which includes time to do the shopping. Thereafter transfer to the airport for the departure flight. (Approximately 1 Hrs Drive)